'We have a lot of unity in Ethan' Ethan Elementary School named National Blue Ribbon School for 2022
Honor a reflection on students, staff, school and community, administrator says
We are part of The Trust Project.
ETHAN, S.D. — It was a moment of pride last month when teachers and administrators at the Ethan School District learned that its elementary school had been named as National Blue Ribbon School for 2022.
But they know their school, their students, their staff and their community, so it wasn't necessarily a surprise.
"We here at Ethan work hard with our students. Academically, we're always trying to make them very responsible students and to take ownership of what they learn," Lesley Bartscher, a 5th, 6th and 7th grade teacher in the Ethan School District, said to the Mitchell Republic. "The test scores are very good at Ethan, but it's more than test scores. It's teaching them to be good students. So I'm not surprised."
A National Blue Ribbon Schools acknowledges the work of educators, families and communities in creating safe and welcoming schools where students master challenging and engaging content. Entering its 40th year, the National Blue Ribbon Schools Program has bestowed approximately 10,000 awards to more than 9,000 schools.
The award is administered by the U.S. Department of Education and recognizes schools in one of two performance categories, based on all student scores, subgroup student scores and graduation rates. Exemplary High Performing Schools are among their state's highest performing schools as measured by state assessments or nationally normed tests. Exemplary Achievement Gap Closing Schools are among their state's highest performing schools in closing achievement gaps between a school's student groups and all students.
Ethan Elementary School was selected as a Exemplary High Performing School, and Tim Hawkins, superintendent and elementary principal for the Ethan School District, said the performance honored by the award comes from a unity among students, faculty and community.
That could be seen during the tough recent pandemic years, when learning went remote due to COVID-19.
"Going back to the whole school shutdown, what was amazing to me was how well our kids handled it and how well they participated even when they were at home," Hawkins said. "And a lot of that credit goes to their parents making sure they were getting online when they were supposed to."
Bartscher agreed and said the height of the pandemic was a challenging time, but the district and its supporters rose to that challenge.
"We have a lot of unity in Ethan, and we collaborate a lot between our teaching staff, our administrators, our extra staff and our parents. It's a really great learning environment, so not being in the building was tough for everybody," Bartscher said. "Since we've been back, the environment has been so positive that everyone is working so hard to make up for things, but also everybody is looking to contribute to the success of Ethan."
Now, the hallways and classrooms are again full, and the school nestled in a community of 328 about 12 miles from Mitchell is once again engaging students in the classroom and beyond.
And that extends beyond the elementary school, Hawkins said. There are 283 students in the entire district, with 152 of those in the elementary school, and they all treat each other, and the faculty and staff, like extended family.
That makes a difference, Hawkins said.
"I don't know that there's necessarily any magic program. To me this is a school-wide award. All of our teachers work together, it's truly like a family here. Our high school teachers and students are often down in the elementary working with kids throughout the year," Hawkins said. "But what I think it goes back to is that we have a staff that does everything in their power to make sure they form a relationship with their kids, and when you form that it goes a long way. That's where I think a lot of our success comes from."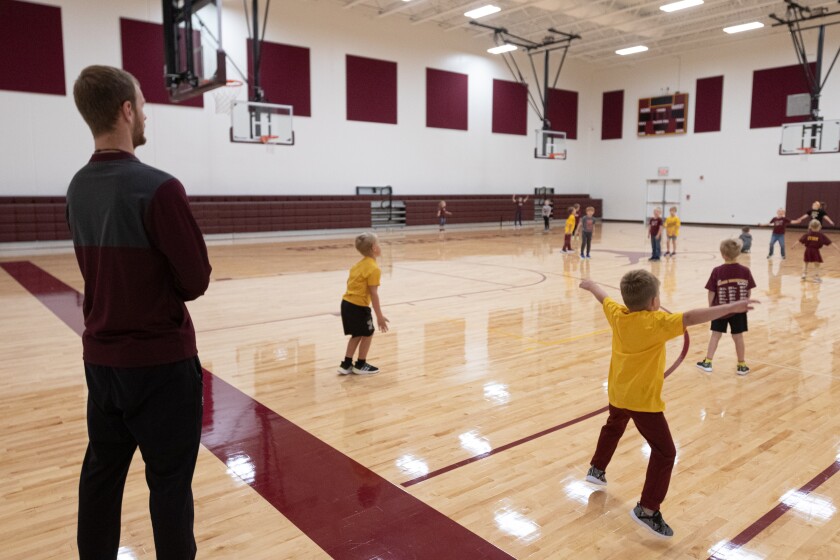 Bartscher said faculty at the school take pride in their ability to address student needs on a one-on-one basis as much as possible. No two students are alike, and teachers must be prepared to handle different personalities and learning styles.
"Not every student learns the same way. Having a variety of approaches to learning, activities, online instruction, direct instruction, group instruction — every person on staff is doing a variety of learning for each student. And academics are important, but there's also the social and emotional needs of students," Bartscher said.
Those elementary students eventually go on to become high schoolers, and the well-rounded group at Ethan High School itself is a reflection of success at the elementary level, Hawkins said. As a small school, students know all their fellow students, and they enjoy spending extra time with their friends. That means more time spent in activities beyond the classroom.
"Quite honestly, year-round we have something going on and it's amazing to a lot of us just how many students are involved in everything. You get to our high school level and it's not uncommon for most students to be involved in athletics as well as student council, FCCLA, FFA. They're just involved, and I think kids are excited for whatever comes next," Hawkins said. "Our kids like to be involved, and it goes back to being a smaller school. Everybody is friends with everybody and wants to be involved with their friends."
Up to 420 schools may be nominated for the award each year and four were selected from South Dakota this year. Along with Ethan Elementary School, Timber Lake Elementary School, Holy Spirit Elementary School in Sioux Falls and Sonia Sotomayor Elementary School in Sioux Falls were all named to the list for South Dakota.
For the Ethan School District, it's actually the second time it has received the award. It was also named a recipient in 2006.
Before the 2020-2021 school year wraps up, Ethan students scattered across the small town that sits just 10 miles south of Mitchell to spruce up pockets of the community during the Ethan Rustler's Day of Giving Back.
"I applaud all the honorees for the 2022 National Blue Ribbon Schools Award for creating vibrant, welcoming, and affirming school communities where students can learn, grow, reach their potential, and achieve their dreams," said U.S. Secretary of Education Miguel Cardona in a statement. "As our country continues to recover from the pandemic, we know that our future will only be as strong as the education we provide to all of our children. Blue Ribbon Schools have gone above and beyond to keep students healthy and safe while meeting their academic, social, emotional, and mental health needs. These schools show what is possible to make an enduring, positive difference in students' lives."
Both Hawkins and Bartscher, who with 31 years of time invested into the Ethan School District is the longest-tenured member of the elementary staff, will be traveling to Washington, D.C. in November to accept the award on behalf of the district along with representatives from recipients across the country.
It will be the first time either of the educators has been to the nation's capital, and they expect it will be an exciting visit. But they said they are going first and foremost to represent their district, their students, their fellow staff and their community and the hard work they all have put in to make Ethan stand out as a place to learn.
Everyone in the extended Ethan school family has contributed to making it such a place, Hawkins said.
"Everybody has bought into it, and that's what is special about this community. The community is small, and the district is one of the smallest in the state. But when everyone is on the same page, it works so much better," Hawkins said.