Upgrades are needed but wait might continue for Mitchell High School athletic facilities
Now with 20 sports at MHS, Mitchell's facilities have never been busier but the question remains on how to best to get it done.
MITCHELL — When the current Mitchell High School building and gymnasium were built 60 years ago, there were no volleyball, competitive dance and cheer or dance teams.
But there are in 2023, along with 17 other sports for boys and girls.
School officials know that the school's athletic facilities are showing their age and no longer adequate to fully accommodate students and staff in their pursuit of athletic excellence. And now they're trying to figure out how to address that problem.
On a 4-1 vote Tuesday night, the Mitchell Board of Education set in motion a plan to construct the district's first new high school building since the 1960s. By approving the base bid on the $45.6 million construction plan, the wheels are in motion for construction to begin in earnest.
But that base bid does not include a number of alternates that would have upgraded gymnasiums, practice fields, locker rooms and other athletic assets at Mitchell High School and the greater high school school complex. Ongoing construction cost increases and inflation pushed those upgrades out of reach financially, at least for the time being.
If the plan goes forward, the board will have to wrestle with how to fund the roughly additional $20 million that it would cost to finish the athletic facilities, the demolition of the current high school and the construction of parking and landscaping.
There has been debate by the board on what the best way to do that is, but the general consensus seems to agree: the athletic spaces at Mitchell High School need upgrading.
"They're inadequate would be one way to sum it up," Cory Aadland, activities director for the Mitchell School District, told the Mitchell Republic about the state of the high school athletic facilities. "They're aged, and so many things are different than when they were built. We have added more sports. These facilities were not designed to do what we're trying to make them do."
The gymnasiums and athletic fields are utilized by about 350 students a year at the high school in 20 sports. They're used from sunrise to sunset 12 months out of the year, and as use has increased over six decades, the wear and tear has piled up. The athletic spaces are showing their age, Aadland said.
"Even more so than at the middle school or an elementary school, (the high school) building gets used from 6:30 a.m. to 10 p.m. at night year-round. We have summer workouts, summer lifting, all those things. The number of hours that get put on the high school facility compared to those (others) is so much greater," Aadland said. "That expedites the wear on it."
And its 1962 construction design is simply falling short in 2023, he said. A lack of air conditioning can turn early-season volleyball matches sweltering. There are showers in the girls locker room that haven't worked in years. Practice space is stretched with the increased number of sports and participants.
Even visiting schools take note when they see where Mitchell students practice and play.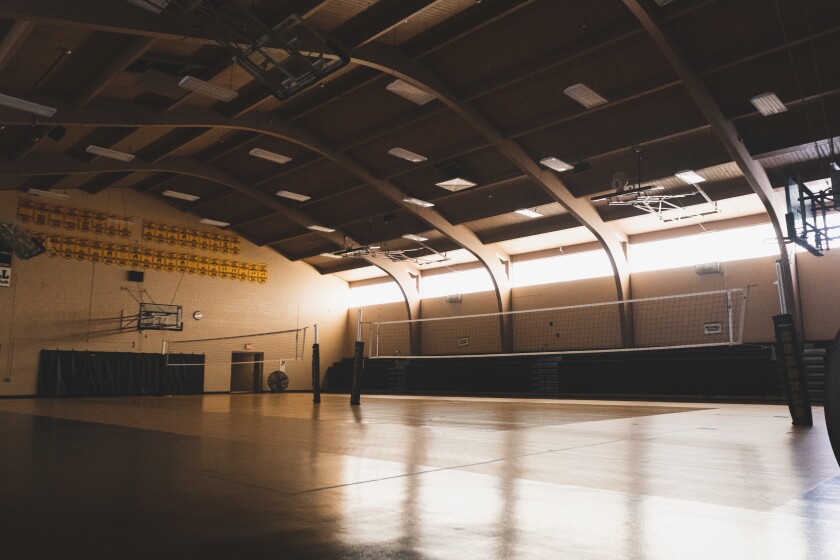 "I hear the kids from other towns when they come into our facilities and I hear the comments. They're not trying to be negative, they don't even know I'm there, but they're all kind of shocked and in disbelief," Aadland said.
Terry Aslesen, a member of the board of education who cast the nay vote against approving the base bid Tuesday night, said at that meeting Mitchell sports the worst large-school high school athletic facilities in the state. That becomes a disservice to the students, coaches, public and staff who use them and reflects poorly on the district overall, he said.
Aselsen has proposed a number of alternatives to the current high school building plan that he feels would be more affordable for the district and help upgrade those facilities faster, including remodeling and upgrading the current school building and athletics areas at a lower cost instead of building new.
The district is rightly proud of the Performing Arts Center, he said, and it should have athletic facilities that are at least up to snuff for modern times.
"When people come into a school or a community and look at schools, the first thing they look at is auditoriums and gyms. We have the best (fine arts) auditorium in the state, bar none. We have one of the worst indoor athletic facilities in the state, bar none," Aselsen said Tuesday. "That is why I think we need to get a real look at what it would cost to remodel."
The remodeling suggestion was effectively put on hold with the passage of the base bid Tuesday night.
The athletic facilities not included in the base bid would make a significant impact on programs, Aadland said. And while the additional cost is also significant, the district is not going overboard in its vision for the upgrades, he said.
"It's hard to put into words and try to explain what that would be," Aadland said about the impact of the planned facilities. "By no means are the plans that we have extravagant. They are on par with what other districts have. We're not getting anything greater than them. It's not overdone. They are adequate facilities in a positive way."
After so many years of using inadequate facilities, a jump to average will seem like a massive improvement, Aadland said.
"(The plans) are very on par with what every Class AA school has in the state. The jump from where we are at to where we would be with those new facilities? It's a complete game-changer," Aadland said.
The district had put away dollars for the full project, including athletic facilities, from several sources over the years and believed it could complete the entire project without significant cuts or going to a public bond issue vote. But that was derailed when inflation and construction cost increases ballooned the estimated price tag to $20 million over budget.
That meant cuts had to be made or the project re-imagined. The project was broken down into phases with a number of alternatives that could be added as the project progressed and money could be budgeted.
It was a disappointing change of gears for the project, said Deb Olson, president of the Mitchell Board of Education, but it was a reality that many public capital works projects faced and could not be avoided.
"It was an exciting time to think about (doing the whole project at once), but realism takes over," Olson told the Mitchell Republic. "And we see it's not just happening to Mitchell schools but to other areas as well."
With the base bid approved, work is expected to commence on the new high school facility across the street from the current high school. The new design will attach to the Mitchell Career and Technical Education Academy building and the Performing Arts Center, creating a new, connected campus building with modern amenities and a modern style.
Now the board will see what it can do about getting the athletic facilities on track. A recommendation from school administration Tuesday night suggested attempting a public bond vote to provide the additional dollars that could get the athletics portion of the work at least off the ground.
"At this time, we are recommending to go to the citizens of Mitchell and ask them to complete the project by passing a $20 million bond issue so that we may add the athletic portions of the projects," the recommendation reads.
The recommendation goes on to note that under today's interest rates, the bond issue would be around $45 per $100,000 of taxable valuation to district homeowners' school district portion of the total tax on property.
While the board took no action on attempting a bond issue vote at Tuesday's meeting, the general consensus seemed to suggest they would deeply explore that possibility at its upcoming meeting Feb. 13.
We would be able to go to a bond issue, and if it's approved, start work immediately.
Deb Olson, president of the Mitchell Board of Education
The district has plans in place and the construction management company has provided good cost estimates, Olson said. With a successful bond issue, the work on the new athletic facilities could begin quickly.
"We would be able to go to a bond issue, and if it's approved, start work immediately," Olson said.
A bond issue would get the district to where it needs to be financially, but bond issues have a spotty record of garnering support in Mitchell.
Steve Culhane, business manager for the Mitchell School District, said the last time the district attempted a bond issue vote was in June 1990. That effort failed with approximately 57% approval, but Gertie Belle Rogers Elementary and L.B. Williams Elementary schools were built later under different financing sources.
The last successful bond issue vote, which requires a 60% approval from the public, in Mitchell was for the construction of Mitchell Middle School in 1967.
While Aslesen was open to the idea of going for a bond issue, he was skeptical if it would pass and he was concerned about approving the base bid before having a bond issue approval from the public.
"I don't know if a bond issue will pass or not. If I were a betting man though, I would bet against it," Aslesen said Tuesday night. "If we're going to do a bond issue, I'm fully supportive of trying a bond issue, but I think we need to do that before we do this building so we don't build a gym-less high school and have the only one of those in the state of South Dakota."
Other school districts have pulled off bond issues when financing got tight on long-running building plans, like Chamberlain did recently with its new elementary school. But success is not guaranteed. Olson said should the board approve moving forward with a bond issue, it would try to engage with the public with information meetings and other outreach to lobby in favor.
Mitchell is a supportive community when it comes to its students, she said.
"I believe our community is very supportive of education and the students in the community, so I would be hopeful it would pass," Olson said.
Whether the board goes forward with a bond issue attempt remains to be seen. If it does, there will be the issue of setting up an election — when is it held? Should a special election be held or should it be part of the joint city and school election in June? Informational meetings and presentations will likely be organized. Debate will continue.
The next steps will hinge on what comes out of the board's next meeting, and Aadland said he's watching the progress with a hopeful eye. Without the bond issue, the athletic upgrades could be delayed, perhaps by years. While Mitchell athletic program coaches and students make do with what they have available, long-term delays could affect competitiveness and participation in sports.
"I have my concerns if this becomes an extended process, or even worse that there is no end date. I feel like that could have a very significant impact on programs with competition and participation," Aadland said. "That's going to impact the number of kids that want to go out for these sports. That is probably my biggest concern."
Because of the way the construction schedule is set up, athletic programs at the school will actually lose a practice field when construction on the new high school building begins, leaving them more short-handed than they were before. A bond issue could help minimize that impact and actually get those facilities up to an acceptable level, he said.
Plans do not include athletic facility upgrades, bond issue to complete project to be discussed
"I don't know if there will be a bond issue, but I believe that's the direction we're going. I have every reason to believe we'll work out the timing and details. I just hope we get to that position and do our due diligence and inform the community the best we can," Aadland said. "I hope people are open to that and be willing to support the programs that quite honestly have been deprived for a number of years with our facilities."