The art and science of nursing: Avera, DWU announce sponsorship program to address staffing shortages
Community is stronger when 'we invest in people,' officials say.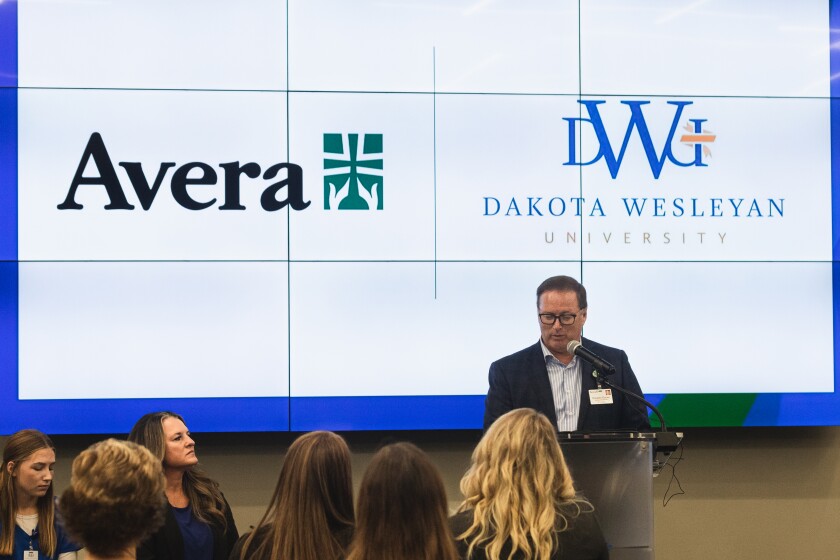 We are part of The Trust Project.
MITCHELL — The need for new nurses remains strong and Dakota Wesleyan University and Avera Health took a fresh step toward addressing that need Tuesday, announcing a new sponsorship program that will help local student nurses with schooling costs and the local healthcare provider with helping keep its facilities staffed.
"This is a great day to really affirm our steadfast, long term partnership with Avera Health, and even closer to home, Avera Queen of Peace. I'm pleased to announce that we have entered into a partnership with this important member of the Mitchell community and larger regions to help fund the educational costs of students enrolled in the Dakota Wesleyan University nursing program," said Dan Kittle, president of Dakota Wesleyan University.
That program is the Avera Achieve Sponsorship Program, which will support selected sophomore Dakota Wesleyan nursing students with $20,000 in education funding for their junior and senior years as long as they successfully complete their studies and commit to working as nurses at Avera for three years following graduation.
Nurses remain in high demand throughout South Dakota and the nation in general. Nursing education centers continue to see a high demand for their students, including Dakota Wesleyan, Kittle said. He noted that 100% of the school's nursing students find employment following graduation.
The nursing program has about 166 nursing students between its Mitchell campus and Sioux Falls, Kittle said.
"The sponsorship invests in the education of Dakota Wesleyan University students, as we know these students will fulfill critical health care needs in communities throughout South Dakota," Kittle said.
Doug Ekeren, regional president and CEO of Avera Sacred Heart Hospital in Yankton and Avera Queen of Peace Hospital in Mitchell, praised the partnership between Dakota Wesleyan and Avera Health, noting the two organizations complement each other in terms of commitment to excellence and education.
"Nursing is both an art and a science. It is a personal calling to impact lives for the better. So we're excited for these students to experience all the potential pathways Avera has to offer," Ekeren said. "Education, specifically nursing education, is foundational to the mission of Avera. The Avera mission was founded by courageous sisters who came to Dakota Territory in the 1880s. Their primary mission was education, a mission that evolved to include health care, as they were presented with the needs, particularly diphtheria and influenza epidemics, of the time."
Dakota Wesleyan graduates are a familiar sight in the halls of Avera facilities, Ekeren said.
"Avera is proud to employ many Dakota Wesleyan graduates. They have contributed much to our health care ministry, and we are excited to see that continue," Ekeren said.
The first six students to be approved for the sponsorship were on hand at a press conference Tuesday at Dakota Wesleyan University and will be among those graduates working for Avera when they graduate from the program. The $20,000 in support from Avera will go a long way in helping them achieve their goals, they said.
Tessa Kilber, of Ipswich, said the help with education funding and a chance to work for a system like Avera was a great opportunity.
"It makes a huge difference. It just gives me the security with my finances and also my future after graduation," Kilber said. "And I wanted a job in Mitchell, so this is perfect for me."
Jasmine Salcido-Santos, of Mitchell, said receiving the sponsorship will help her along the path to reaching her own career goals.
"It's giving me the opportunity to fulfill my dreams," Salcido-Santos said.
The first group of six sponsorship recipients is made up of Salcido-Santos; Kilber; Nora Nelson, of Rapid City; Elisabeth Ortiz, of Sturgis; Connor Tapia, of Tea; and Alexis Tilton, of Mitchell.
Penny Tilton, chair of the nursing department at Dakota Wesleyan, said the program will be a real difference-maker in the lives of students who are working to complete their education by studying under school faculty and getting real-world experience by entering into the workforce with a well-regarded employer.
"A sponsorship of this size will truly be meaningful for students in our department. Every day our faculty members work to encourage our students in learning that nursing is both a career and a calling," Tilton said. "These six individuals, which I have the privilege of knowing, will very much be a credit to the Avera organizations and to their communities, their family and their friends."
Kittle also gave credit to Theresa Kriese, executive vice president for Dakota Wesleyan University who served as interim president for the university before Kittle was hired in late 2021, as one of the early guides for the program. It was great to see the program finally taking off after nearly a year of planning and preparation.
"It's wonderful. We're so excited for the opportunities for our students," Kriese said. "We view Avera as a true partner, and so this is a great way to support the community and that partnership."
Ekeren said providing the support for nursing students at Dakota Wesleyan will benefit the students, Avera Health and the quality of healthcare throughout the community and beyond.
"I think it's a great way to match up our workforce needs for students and help them with the cost of their education and help them with a little clarity on a career path when they finish getting their degree. Then it will be up to work together to take that next step in their career," Ekeren said. "Dakota Wesleyan students spend a lot of time with their clinicals with us, so we get to know them and they get to know us, so there is that benefit. Certainly, any health care graduate coming out today and entering the workforce helps all of us in this region, because without a workforce, we don't have access to care."
Both of these organizations, both of us, understand that communities grow stronger when we invest in people, which is emblematic of this program.
Dan Kittle, president of Dakota Wesleyan University
Kittle agreed that Dakota Wesleyan and Avera work well together, in part because of shared elements of their respective missions. He pointed to Ekeren's view of the importance of education, as well as the importance of supporting and enriching the community through that education.
Supporting the next generation of nurses can only help enhance the quality of life in Mitchell and beyond, he said, and when that happens, everyone wins.
"I was reflecting upon the mission of the university and mission of Avera, and where those come together, where those intersect, and it is all about the betterment of the people and the communities," Kittle said. "Both of these organizations, both of us, understand that communities grow stronger when we invest in people, which is emblematic of this program."
More information on the Dakota Wesleyan University nursing program can be found at www.dwu.edu/academics/majors-minors/nursing . More information on Avera Health can be found at www.avera.org.
Dakota Wesleyan student Gottlob organizes virtual visit from Polish native