Mitchell's Ryan Stahle honored by peers with Outstanding Bandmaster Award
"He's probably the best example of what makes an outstanding band director," former Brookings band director Ron Stary said Friday. "I have a lot of respect for him."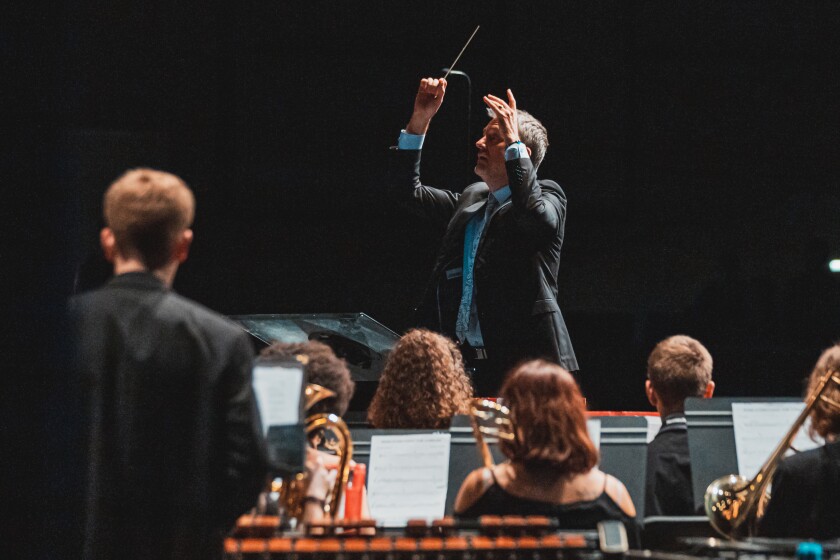 MITCHELL — South Dakota's music fraternity has given a fairly big nod to Ryan Stahle.
Stahle, in his 20th year as director of bands at Mitchell High School, received South Dakota's Phi Beta Mu Outstanding Bandmaster Award earlier this month. He was honored on Feb. 10 prior to the South Dakota State University Band's Winter Concert in Brookings.
"This one is from my peers, and to be acknowledged by them is a special thing," Stahle said Friday, a few hours before his jazz band competed in Omaha. "Your colleagues, that you're constantly competing against, there's a tight connection between the music staff here in the state, and to be nominated by that group is just an honor."
Members of the South Dakota Bandmasters Association put each other up for the award, and Stahle was nominated by Ron Stary, former band director in Brookings.
Stary listed the significant contributions to "not only Mitchell but the broader band world" as justification for the nomination. Those contributions include putting on an annual jazz band festival and his involvement with the South Dakota Music Education Association and the South Dakota Bandmasters Association, among "very successfully juggling a lot of hats for a very long time."
"He's probably the best example of what makes an outstanding band director," Stary said Friday. "I have a lot of respect for him."
A press release from Phi Beta Mu shows off Stahle's work for the award, which went from Stary's nomination to a committee and then a selection group.
"His marching band program has been a consistent finalist at several competitions. His Jazz Bands have been consistently some of the best in the state winning outstanding performance awards and first-place recognition," the release says. "His concert bands continually provide his students and his community with much pride and solid performance standards. His work as all-state jazz chair over the past few years has been world-class, providing students a top-notch experience through considerate organization and guest artists. He continues to provide service to our state organizations, always supporting other directors with comments and encouragement of their hard work."
Stahle was honored two years ago by the South Dakota High School Activities Association with a distinguished service award. He has served on the SDHSAA Music Advisory Committee and held the title of state chairman of the South Dakota All-State Jazz Band.
Phi Beta Mu - Sigma Chapter, which has 103 current members across South Dakota, was started in 1961.