With spring weather on the way, pet owners urged to keep an eye on dog health
Preventative care a powerful tool in maintaining healthy, happy pooch
MITCHELL — As the snow begins to melt and the grass turns green, dog owners will soon be letting their dogs spend more time outside and among other dogs, either at the dog park or across the fence in the neighbor's yard.
That means it's a good time to remind pet owners about maintaining good canine health and keeping an eye out for illnesses that may make their beloved companion feel under the weather or even threaten their life, according to the local animal health care community.
That all starts with being mindful, getting regular checkups and focusing on preventative efforts.
"The most important thing is maintaining annual wellness," said Amanda Graves, office manager for Creekside Veterinary Clinic in Mitchell. "Making sure they're updated in their vaccinations every year and getting that examination in with a doctor. That's the biggest part that you can start with."
Signs of illness or health issues can take many forms. Dogs with a condition may start acting differently than what their owners are used to. They may become lethargic or have trouble going to the bathroom. Owners know their dog's habits and personality better than anyone, and keeping an eye on changes can be crucial to getting their pet the medical help it needs.
With spring weather around the corner, dogs will be emerging from family homes, spending more time outside on walks, playing with other dogs in the neighborhood and generally being closer to nature. That means exposure to ticks, fleas and other parasites will all be increased, and all can lead to health problems.
That includes heartworms, a serious and potentially fatal disease in pets in the United States and many other parts of the world. It is caused by foot-long worms that live in the heart, lungs and associated blood vessels of affected pets, causing severe lung disease, heart failure and damage to other organs in the body.
Dogs are a natural host for heartworms, which means that heartworms that live inside the dog mature into adults, mate and produce offspring. If untreated, their numbers can increase, and dogs have been known to harbor several hundred worms in their bodies, according to the American Heartworm Society.
Many pet owners may believe that heartworm, which can be spread by mosquitoes, is generally only a problem in warmer, southern states, but that's not the case.
"April is Heartworm Prevention Month, and we don't think there's a lot of heartworm in our area, they think it's a southern thing, but that's not true," Graves said.
Staying on top of other parasitic infestations, including fleas and ticks, can be a good way to prevent illnesses. Maintaining good dental health is also sometimes overlooked. Graves said poor dental health can lead to myriad other problems if left untreated.
"Dental health is way more important than we think it is. It can cause long term life illnesses, liver failure, kidney failure, heart disease, which is something most owners probably don't think about," Graves said. "Getting those oral exams and making sure they do an annual dental (exam) as needed (is important)."
Dr. Angela Pillatzki, department head and director of the Animal Disease Research and Diagnostic Laboratory at South Dakota State University, said rabies continues to be a yearly issue for companion pets of all kinds.
"From the perspective of the type of testing we do here at the diagnostic laboratory, rabies is the top item. Particularly this time of year with the weather getting nicer we have some wildlife species that can carry rabies getting more active. There is a greater potential for our domestic animals to become exposed to that wildlife. The biggest thing for us here and what we get the most questions on is rabies," Pillatzki said. "So I encourage everyone to make sure their dogs and cats, if they spend time outside, get vaccinated."
Pillatzki also echoed concerns about heartworm. She noted that there are heartworm tests available for dogs, and treatment for the disease can often be combined with other treatments, such as for intestinal parasites. She also noted that canine distemper is another disease for which vaccines are available.
As a rural state, many domestic pets often spend a good deal of time outside, increasing the risk for infection.
Dr. Michael Patrick, owner of the Animal Clinic of Mitchell, said there weren't any particular dog illnesses making the rounds more than usual this spring, but it's always a good idea to keep an eye on your pets and to be mindful of their health and their environment.
Like people, dogs and their immune systems vary from pet to pet.
"Is there a new outbreak of canine influenza or anything like that? No. It all depends. A lot of it is just the immune system and exposure," Patrick said.
Like people, dogs can be exposed to illness in several ways. Some dogs are exposed to illnesses through their natural environment and build up immunity to certain diseases. Others aren't and can be susceptible to falling ill.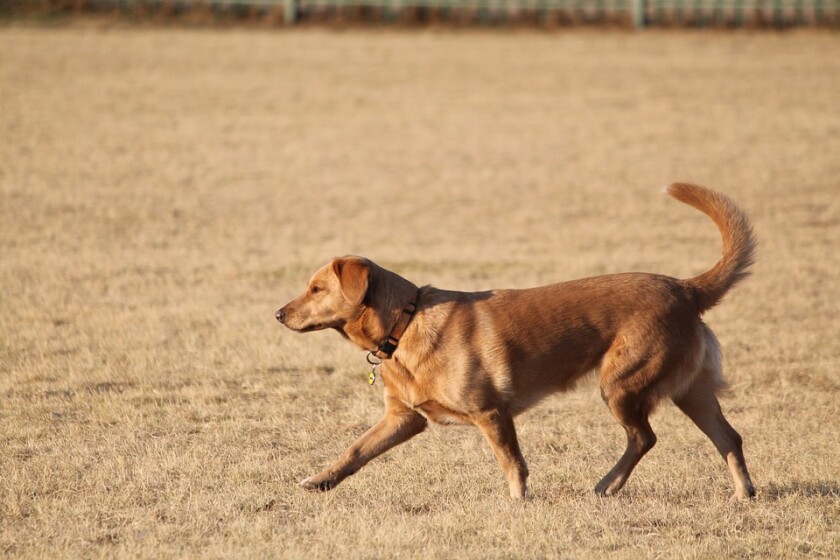 Owners should be aware of where and how they undertake activities like going for walks. Dogs that spend time in public dog parks or with groups of other dogs can increase the risk for transmitting disease. Even something like an owner stepping in the feces of another dog and accidentally bringing it into their dog's living space can cause an infection, he said.
"Some dogs are exposed to it and some aren't, the same as a kid in preschool. The more you put your dog in the position (the more likely it is to get sick)," Patrick said. "It used to be the worst places to take your dog were Hitchcock Park and Lake Mitchell, and now it's the dog park. Some dogs are vaccinated and some aren't. Who took their dog who was sick there? Who knows? You're just taking a risk."
Yearly checkups, vaccinations and a generally healthy lifestyle are some of the best methods of maintaining good dog health.
"Get your yearly vaccinations, you feed them a good nutrition diet and you exercise them and you hope they live to be 15 years," Patrick said.
Eric Knight, office manager for NorthWest Veterinary and Supply in Parkston, said with pets spending more time outdoors in the spring, another health issue to watch out for is injury. It's something he sees more of as the weather turns warmer.
"As the weather gets nicer, everybody is out and about. We tend to see a few more accidents this time of year and as we get into spring and summer. (It's good) to pay attention to where your dog is at," Knight said.
When the weather gets nice, dogs may like to take a ride in the back of a pickup truck, but that can also lead to them falling out while the vehicle is in motion. Drivers not paying attention can also run into a dog, causing broken bones or worse, he said.
Dogs also benefit from good grooming. Baths can be helpful after a dog loses its winter coat, and trimming claws can also prevent problems.
"It does help," Knight said.
Regular checkups, yearly vaccinations and being mindful and observant of your dog's mannerisms, activities and environment all go a long way to keeping house dogs, hunting dogs and farm yard dogs living a long, happy life. Part of being an owner is providing that care to the pet, Pillatzki said.
Just as pet owners do for themselves and their children, they shouldn't forget those yearly appointments for checkups and vaccinations and consult with a veterinarian with any questions or concerns, especially as they get older, when immune systems are weaker and can fail to fight off infection.
"Doing that yearly checkup with your veterinarian to check on the general health of your dog, particularly as dogs get a little bit older, is very important. You can (diagnose) diseases, and not even necessarily infectious diseases, but diseases related to age. If they are caught early you can do a lot of things to prolong the lifespan and quality of life for the animal," Pillatzki said.