Believe in the Blue campaign turns Corn Palace blue, aims to bring awareness to child abuse
Exchange Club of Mitchell, Abbott House spearhead efforts to fight abuse, neglect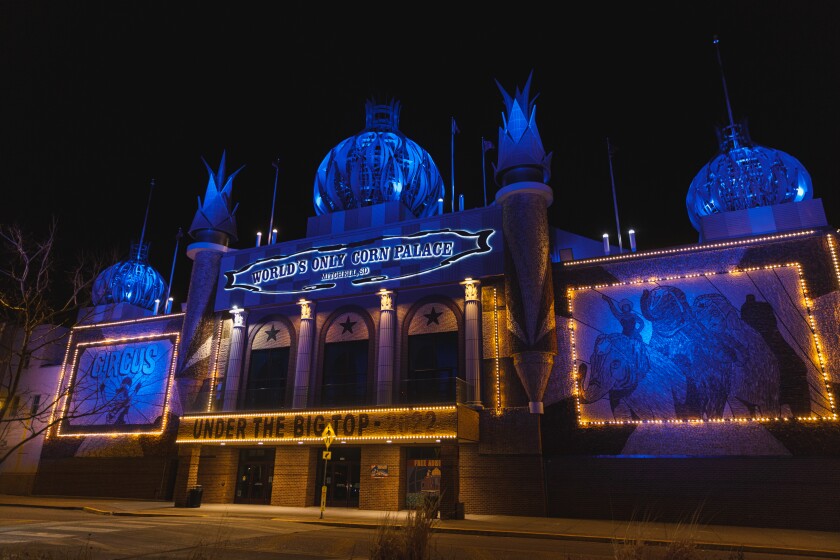 MITCHELL — On a chilly April Monday evening in downtown Mitchell, the World's Only Corn Palace sits regally bathed in blue light, cutting a strikingly colorful silhouette against the South Dakota night sky.
It's an eye-catching display, and while pretty, the blue light symbolizes something more than just a decorative choice. It represents the ongoing fight to keep children safe from abuse and neglectful treatment in Mitchell, the state of South Dakota and nationwide.
A pair of Mitchell organizations is hoping people take notice.
"It's all a part of Believe in the Blue through the Exchange Club, just to call attention to child abuse," said Joleen Buchholz, past president of the Exchange Club of Mitchell and chair for child abuse prevention for the group.
April is Child Abuse Prevention Month, and the Exchange Club of Mitchell and Abbott House have again joined forces to promote the awareness campaign the looks to educate the community about the ongoing problem. The local branch of the Exchange Club, which counts about 89 members in its ranks, has been intensely involved in the program since 1989, but its roots in the community go back further.
"We have been doing child abuse awareness for many, many years, starting in the 1980s. But what really got us going was the blue ribbon campaign, which started in 1989," Buchholz told the Mitchell Republic earlier this week. "We would have blue ribbon magnets to go on cars and things like that."
That effort evolved into hanging blue ribbons around Mitchell, including on the Sanborn viaduct and on light poles in downtown Mitchell from First Avenue to Seventh Avenue. The ribbons became a popular project for local exchange clubs after the idea filtered down from the national organization and has since become a yearly project.
The idea for the ribbons started as a gesture of remembrance by a grandmother who had lost her grandson to child abuse. She honored his memory by hanging a blue ribbon from her car's radio antenna, according to Buchholz.
"National Exchange picked up on that, and they have a tight network of members and clubs. There are only about 550 clubs, so we have a lot of news going back and forth, and when one club does a project a lot of clubs hear about it," Buchholz said.
Child abuse continues to be a problem nationwide. A report of child abuse is made every 10 seconds in the United States, according to a press release sent out by the Exchange Club of Mitchell and Abbott House. In one year, state agencies across the country found more than 656,000 victims of child mistreatment, which includes victims of physical, emotional and sexual abuse, as well as neglect.
That abuse can lead to problems even beyond the immediate danger, causing many victims to develop psychological disorders, become involved in criminal activity, experiment with drugs and alcohol, engage in risky sexual behavior and experience intimate partner violence.
The Believe in the Blue Campaign is designed to encourage people in the community to be mindful of signs of child abuse, to speak up about it and educate others about the realities of child abuse.
It is not a pleasant subject to talk about, but doing so is important, said Virginia Wishard Lambert, development director at Abbott House in Mitchell. Abbott House is an organization that provides therapeutic residential treatment, foster care and independent living services to youth across the state of South Dakota in order to provide services to youth and their families.
"I think it shouldn't be, but it is an embarrassing topic, often for adults and even for youth who come to Abbott House. Sometimes they see (abuse) as a sign of punishment or maybe a sign of weakness," Wishard Lambert said. "In fact we tell our kids that this is an opportunity of a lifetime for them to have the chance to focus on themselves and focus on developing a toolbox of skills that will help them for the rest of their lives."
Abuse is trauma, Wishard Lambert said, and it affects children of all ages no differently than it can affect adults, sometimes months or years after that abuse occurs.
"You go about your day and talk about it and then six months later you have flashback issues. You become overcome by it. It affects us all in different ways and we all experience different trauma, regardless of the home they come from. It's not easy."
Abbott House is one of several resources in the community that work with children who often suffer from abuse and neglect, and officials there are well-aware of the statistics and the impact abuse has on children and families. They strive to help those youth as they try to overcome those challenges.
Those efforts have shown that supportive programs can and do make a difference in the lives of children who may have suffered abuse in their lives.
"We serve in our programs some of the most vulnerable in South Dakota. They don't come here unless they've met a pretty high threshold," said Eric Klooz, executive director for Abbott House. "But we've seen most go home to a public school and function in their community. That's a tremendous outcome."
Abbott House is joining in the blue ribbon campaign by hanging ribbons around its campus in Mitchell. Awareness is one of the most important tools in combating the problem, and Wishard Lambert said the public can help by being vigilant and not shying away from the problem.
Some said steps people can take include:

Have a talk. The best education comes from inside the home. Talk to your kids about good touch and bad touch. Make a plan of several adults that are safe to talk to if someone gives them a bad touch. Teach them to never keep secrets about touching. Teach them that it is OK to say "no." Teach them social media safety and regulate who they are talking to online.
Know the signs. Look for signs of abuse in your own children, as well as the children in your community. Look for the child that often is physically hurt, or the one that often has "accidents" that results in injury. Maybe the child is aggressive to others or completely withdrawn, afraid to go home or visibly uncomfortable around a certain adult or parent. Look for the child that is always hungry, is often dressed inappropriately for the weather, is often missing from school or their hygiene neglected. Look for children with poor peer relationships, who have difficulty walking or sitting, or the child seen as the "bad kid" in class.
Know your resources. If you've seen the signs, it is now on you to advocate for the child. To report suspected child abuse, call the Division of Child Protective Services at 1-877-244-0864. If it is an emergency, contact local law enforcement.
Responsible adults can take the lead and remove the burden of having to act from children who may not know how to escape their situation or who to trust.
"There is information out there that says the best protective factors are families that are knowledgeable of parenting and child development, parent resilience, community connections and support," Wishard Lambert said. "Oftentimes when kids get into abusive situations, it's hard for them to know how to reach out or they may not initially know that this is not a healthy situation."
Klooz added that involvement in supportive groups, such as church or other social structures, can go a long way in helping teach youth about positive relationships. That is a resource that can be found relatively easily in Mitchell, he said.
"I think we have a great community of churches that do a lot in the community and support people through harvest meals and youth groups where they can connect," Klooz said.
The campaign continues through the end of April, with the blue lighting of the Corn Palace to take place Mondays from dusk to the following dawn.
Doug Greenway, Corn Palace director, said the lighting is an easy way for the landmark attraction to support a local group doing good work for a good cause.
"We feel we're a big part of the community, we're obviously on Main Street and we're a visitor attraction that brings in over 300,000 just in the summertime. So we want to support those who support us, and obviously the Exchange Club does so much good work in the community," Greenway said. "April is Child Abuse Awareness Month, and it's very easy for us to turn the Corn Palace blue, or other colors for that matter."
And Buccholz and the other organizers of the awareness campaign are happy to have the Corn Palace on board. Anything to bring more awareness to an important cause.
"If they can just be aware of it and call that attention to an authority so we can save that child. We don't know what will happen to that child tomorrow if you see it today. We don't know if (that child) will be there tomorrow. (We just want) to make them more aware of all these millions of little kids who are abused and neglected," Buchholz said.
Wishard Lambert agreed.
"Awareness is really important. This may reach kids, it may reach parents. It's really just a target to reach the entire community so that everyone is aware of what it means to be in a safe place and to make sure that kids are safe," Wishard Lambert said.
The program is being funded through a $150,000 grant with the state Department of Health