Convoy of Hope takes edible beans from North Dakota and Minnesota to global areas of food insecurity
Convoy of Hope aspires to form more partnerships, similar to Northarvest Bean Growers Association and Central Valley Bean Co-op, with edible bean companies.
Few would argue that the right thing to do for the United States, a country whose farmers produce an overabundance of crops, is to share the abundance with hungry people across the globe.
Spanning the distance between the men and women who raise non-perishable commodities such as wheat, soybeans and edible beans and the people whose lives depend on eating them, however, are stumbling blocks that include transportation issues, bureaucracy and policy differences.
"On one level it seems like a simple sort of response to global hunger because there's nearly a billion people that are food insecure, meaning they don't get enough nutritious, affordable, safe food to live active and healthy lives," said Thoric Cederstrom, a Geneva, Switzerland-based,expert in sustainable agriculture and food security who is the U.S. Dry Bean Council food aid consultant.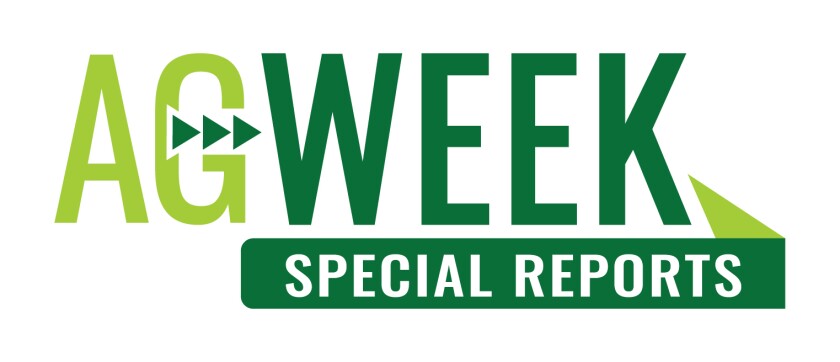 The farm bill is a massive piece of legislation Congress is called on to pass every five years. The bill encompasses farm policy and food insecurity, leading some members of Congress to call the farm bill a matter of national security. The current bill, passed in 2018, expires on Sept. 30, 2023. In this month's Agweek Special Report, we examine the farm bill — why it exists and what it does. That includes in depth looks at crop insurance and food insecurity.
Though it seems like the simple answer would be to distribute the surplus food in the United States to hungry people around the world, it's much more complicated and involves both political motives and humanitarian motives, Cederstrom told farmers at Northarvest Dry Bean Day in Fargo on Jan. 20, 2022. Cederstrom spoke to farmers, via Zoom from Mexico, where he had been on a trade mission.
"The United States has used that agricultural abundance to achieve many of its foreign policy objectives throughout the world," Cederstrom said.
The food aid program, like all U.S. government programs, has grown increasingly more complex since its inception more than a century ago.
Food aid often is a point of contention between lawmakers who are hammering out the farm bill. Some believe that more money in the farm bill should be spent on production agriculture and others want to increase the spending on nutrition programs and food aid.
In states where expanded benefits have already ended, 29% of SNAP recipients visited food pantries in December, compared to 22% in states that still had the benefits.
The USDA 2023 budget for fiscal year 2023 calls for $2.2 billion in funding for international food and to promote U.S. agricultural export overseas. The majority of that funding — $1.75 billion — is for Food for Peace grants. Another $243 million is for the McGovern-Dole International Food for Education and Child Nutrition program.
The involvement of the U.S. in food aid began after World War I when Herbert Hoover directed a program to ship food and agricultural supplies to Europe. Though the program focused on providing foreign aid, the appropriation act also included provisions that aimed to benefit U.S. farmers , such as giving preference to American wheat for export.
After World War II, the United States established food aid as part of its foreign policy and diplomacy, increasing its agricultural contributions into multinational responses through organizations that included the United Nations Relief and Rehabilitation Administration and the United Nations Food and Agricultural Organization, according to the U.S. State Department.
In the years immediately following World War II, the U.S. government initiated short-term food aid programs such as the Government and Relief to Occupied Areas program and the Marshall Plan.
As the Cold War began to escalate, and at the same time, American farmers produced a surplus of commodities, in 1954 the U.S. Congress created the Agricultural Trade Development and Assistance Act or Public Law 480, commonly called Food for Peace. The program's aim was to reduce the agricultural surpluses of the U.S., improve the domestic market and revitalize new markets overseas, the U.S. State Department website says.
Food for Peace moved away from coupling politics with food aid to providing food as a humanitarian effort in the 1970s during the Carter Administration, and, in 1985 Congress passed the Food Security Act, which authorized the U.S. Agriculture Secretary to donate USDA commodities as food aid to countries who need them.
Those donations require transportation over long distances, people to procure and deliver the commodities and an accounting system, Cederstrom said.
The emergency provisions of the P.L. 480 program, which allows contributions during emergencies, such as natural disasters and wars, to United Nations' organizations, non-governmental organizations and from government to government has generally been supported and non-controversial, he said.
However, there is concern about non-emergency food aid, which focuses on chronic food insecurity, Cederstrom said.
Criticisms of the non-emergency programs say they can create food dependency, undermine local production in the countries that receive the food aid and result in distribution issues such as being provided to people who don't need it, instead of people who do, Cederstrom said.
The United States and organizations, including Northarvest Bean Growers Association, that participate in food aid programs have responded to that by providing food assistance that better target the food aid to where it is needed. They do this by analyzing the market, providing commodities that are unavailable to the local culture and improving pipeline management, Cederstrom said.
Catholic Relief Services has sought to improve food aid programs through efforts that include integrating food security programming that supports livelihoods, is procured locally and offers distribution of cash to people so they can buy their own food, instead of giving them donated commodities.
Many organizations besides Catholic Relief Services also are revising their programs to focus on global and regional purchases, Cederstrom said.
Providing food aid is one of the goals of Northarvest Bean Growers Association, said Eric Samuelson, Northarvest Bean Growers Association president and a Crookston, Minnesota, farmer.
"There's always a need for food aid around the world so we've grown more focused on using and developing a food aid program at Northarvest," Samuelson said.
Northarvest Bean Growers Association and Central Valley Bean Co-op in Buxton, North Dakota, in the fall of 2022 partnered with Convoy of Hope , a faith-based non-profit humanitarian organization, based in Springfield, Missouri. Together they provided food aid to children in Guatemala and Honduras in the form of 60,000 meals from pinto beans.
Convoy of Hope, which has trucks available to transport commodities, picked up the pinto beans from Central Valley Bean Co-op in the fall of 2022 and transported them to a port, where they were shipped to Guatemala and Honduras.
"Beans are huge to kids in our food programs," said Alyssa Killingsworth, Convoy of Hope partnership relations manager. "Convoy of Hope is glad to be partnering with you guys," she told farmers at Northarvest Bean Day. Killingsworth spoke at the organization's annual event about her organization and its hopes to partner with other edible bean dealers to procure the commodity for food aid.
Besides Central America, Convoy of Hope provides food aid to people in Africa, Asia and Europe, Killingsworth said.
The non-profit organization strives to provide a stable supply of food to school feeding programs.
"When we offer these types of products to our students in our meal programs, we want to make sure that they are an option through their time in school so they're not just adding things, and then bringing them back," Killingsworth said.
Convoy of Hope aspires to form more partnerships, similar to Northarvest Bean Growers Association and Central Valley Bean Co-op, with edible bean companies.
"We would love to continue this," Killingsworth said.
Central Valley Bean Co-op plans to build on its partnership with Convoy of Hope, said David Scholand, Central Valley Bean Co-op sales and marketing manager. Scholand was part of a Northarvest Bean Day food aid panel.
"We already do food aid efforts in different avenues. We probably shop out a truckload a week, plus or minus, that goes to food aid; non-profit Christian ministries. It's awesome, you get to give back," Scholand said.
Convoy of Hope has a logistics team that made the pinto bean donation process go smoothly, Scholand said.
Partnering with non-governmental organizations such as Convoy of Hope is beneficial to both the farmers who grow the edible beans and the hungry people who receive the commodity, Samuelson said.
The people who eat them are consuming a nutritionally dense product that is high in fiber, and protein rich. Farmers have another outlet for their crops.
"We're able to distribute our beans around the world, so there's another use of our product," Samuelson said.