Boyds Gunstocks, Mitchell School District food service recognized as outstanding employers for disabled workers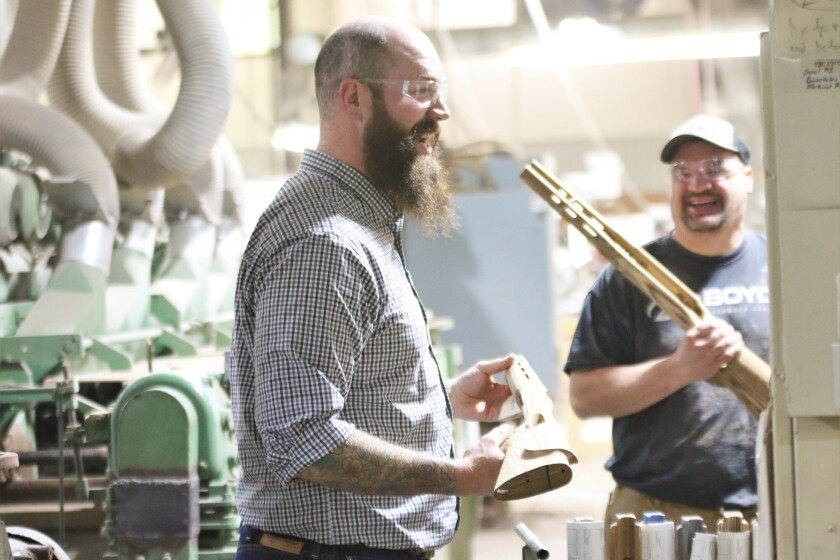 PIERRE — Two longtime Mitchell employers that have provided promising job opportunities for people with disabilities were honored for those efforts on Tuesday.
The South Dakota Board of Vocational Rehabilitation, Board of Service to the Blind and Visually Impaired, and the Statewide Independent Living Council presented Boyds Gunstock Industries with the state's Outstanding Private Employer award in the "large employer" category, while the Mitchell School District Food Service Department was recognized as the Outstanding Employer in the "other employer" category.
Gov. Kristi Noem presented the awards to both entities on Tuesday at the state's capital building during the 2020 Governor's Awards Ceremony. The criteria for business entities to be nominated for the awards centered around employers' efforts to contribute to improving employment opportunities and independent living for people with disabilities.
Boyds Gunstocks was founded in 1981 and has grown into a global leader in the custom hardwood gun stock industry. Over the years, individuals with developmental disabilities from Life Quest have served as a vital component on the company's production line. All of the gun stocks are produced at the 35,000 square foot facility that's located 10 miles west of Mitchell near Mount Vernon.
Dustin Knutson, co-owner of Boyds Gunstocks, said the integration of workers with disabilities has been one of the company's "biggest accomplishments." Today, Boyds is backed with roughly 100 employees who handle the manufacturing, sales and marketing.
"That is one of our biggest accomplishments. It's so incredible to employ them, and see them prove they can do things that some people may say they can't do," Knutson said in an interview with the Mitchell Republic in February following the announcement of him becoming the co-owner.
In a press release Tuesday, the governor's office called Boyds Gunstock "a champion for all employees. Boyds surpassed their goal of having at least 10% of their workforce be employees with disabilities. Boyds management style has made a lasting impact on people's lives by providing them with an opportunity to learn valuable work skills, increase their income, and experience an increased sense of accomplishment."
The Mitchell School District Food Service Department of Mitchell employs a dynamic and efficient staff dedicated to education and the practice of constantly improving the educational program.
"The Mitchell School District, Food Service Department capitalizes on the employee's strength, celebrates diversity, and provides a stable and supportive work environment," the governor's office said. "Employees develop work skills that include food preparation and safety, appropriate dress code, and customer service skills. Furthermore, the department promotes a diverse workforce, offering equal employment opportunities for all."
The following employers were recognized for their respective awards:
Kendra Gottsleben, of Sioux Falls - Outstanding Individual with a Disability.

Chris Peterson, of Ft. Pierre - Outstanding Employee with a Disability.

The Fox Stop, of Yankton - Outstanding Private Employer (Small Employer).

Boyds Gunstocks Industries, of Mitchell - Outstanding Private Employer (Large Employer).

Mitchell School District – Food Service Department of Mitchell - Outstanding Employer (Other).

Karen Schmeiser, of Aberdeen – Outstanding Transition Services.

Eugene "Gene" Murphy, of Sioux Falls – Distinguished Service.