Aging buildings plague Mitchell's Main Street
Owning a historic building on Mitchell's Main Street has been a stressful endeavor for Janice Christensen.
Christensen, owner of The Crafty Fox, is one of several Main Street business owners faced with the challenge of maintaining an old building to comply with nuisance conditions outlined in the city's building code. With a number of aging buildings like Christensen's scattered along downtown Mitchell, some Main Street property owners believe meeting the aesthetic demands in the city's building code is at times unrealistic.
Taking a leap of faith with the purchase of a worn down 111-year-old Main Street building, Christensen said she was aware maintenance challenges were imminent when she bought the property 11 years ago. But the small business owner never anticipated the number of hurdles she has come up against throughout her years of running The Crafty Fox.
"It's been very challenging trying to maintain this building, and I've put almost as much money worth of repairs into the building (as) the price of the property," said Christensen, noting tuck-pointing, reroofing and interior renovations have been the brunt of repairs. "It's hard enough staying afloat while running a Main Street business in the online era."
Perhaps the most challenging hurdle for Christensen has been adequately complying with the city of Mitchell's requests to repair nuisance conditions on her building in a timely manner.
According to the city's nuisance code, a building's nuisance conditions in need of maintenance or repairs are first outlined in a courtesy letter, which is delivered to the respective property owner. Code Enforcement Officer Wade London said the city allows 14 days for the property owner to contact the Public Works Department to agree on a timeline for adequately resolving the specified building damages listed in the courtesy letter.
"Our goal is to work with the property owners who aren't maintaining their structure up to building codes; we have to enforce it," London said in an interview with The Daily Republic.
But if the property owner fails to fulfill addressing the nuisance conditions in compliance with the building code, an order to correct is issued.
The city's most recent order to correct, handed down to Christensen on Aug. 31, 2018, consisted of four separate nuisance items, which included painting parts of the exterior, tuck-pointing and replacing the windows on the top story of the building.
"Not only were the windows extremely expensive, I would have to hire a boom truck as well to install them," Christensen said, in between helping customers at her craft store. "Having that kind of money available within a quick time frame is extremely difficult. And I don't have the money for that."
According to Christensen, bids for replacing the top floor windows alone hovered around $200,000, with the exception of a $115,000 bid that was offered by the city.
Struggles of an aging Main Street
Christensen's building is not the only structure of its kind in downtown Mitchell. As of mid-January, the city issued 21 courtesy letters to property owners with Main Street buildings.
With a number of older, deteriorating buildings on Main Street, London said there are some options for property owners to help fund nuisance repairs. Among the options are applying for grants from the South Dakota Historical Society and a Mitchell Main Street and Beyond loan program.
"For Main Street buildings, property owners can go through programs with Mitchell Main Street and Beyond, which are zero (percent revolving) loan programs," London said. "Another thing we offer is a nuisance agreement, in which the city comes in and provides the work. We don't want to have to provide the work, but the homeowner is subjected to pay before it goes onto their taxes."
Despite the building and infrastructure woes, Mitchell Main Street and Beyond Executive Director Jared Indahl said the entity's focus to promote downtown Mitchell remains strong.
"When visitors and tourists come to the Corn Palace, they see our Main Street right next to it, so it's important that we do our best to keep Main Street aesthetically pleasing," Indahl said. "We are committed to working together with Main Street business owners."
Cathy Weber, owner of the Little Red Hen, has also been faced with several infrastructure issues in her 15 years at her property. While Weber's Main Street business isn't classified as a historic building, she's invested time and money into maintaining her building.
To fund some of the structural repairs on her building, Weber utilized the Mitchell Main Street and Beyond program. Weber applied for the program-which is a revolving loan fund at a low interest rate-and installed a new door, windows and an exterior paint job.
"It was an easy and smooth process, and it was very helpful for my business," Weber said. "These buildings are old, and I think some people buy them without realizing they will have to put a lot of work into maintaining the building. I'm fortunate to have never received an order to correct, but I feel for the businesses trying their best to maintain their buildings."
As the corroding Third Avenue and Main Street building continues to deteriorate, Weber said it's made life difficult for the past 2.5 years.
The dilapidated property has forced the street closure of Third Avenue since June 2017, greatly affecting business for The Crafty Fox across the street.
Making matters more complicated for Christensen, certain regulations and guidelines apply for repairing and restoring historic buildings.
"The historical society only approved Andersen brand low-maintenance and wood windows, and they're very expensive," Christensen said. "It's been really challenging having to follow those guidelines."
Former Mitchell Main Street and Beyond Executive Director Jeff Logan said having a strong downtown is vital for the future of Mitchell. While Logan acknowledged the struggles of maintaining old Main Street buildings, he said it's important for property owners to invest in building maintenance.
"Some of the buildings have suffered from deferred maintenance, and that's not a criticism of current owners. Sometimes those problems go back two or three owners failing to reinvest in the building," Logan said. "Yes, it should be a profit center, but you can't bleed it dry. There will come a time when someone will have an exit strategy, and you need to have value in the building."
Grant funding process
With a $250,000 window replacement project hanging over her head, Christensen began scrambling for ways to fund the nuisance corrections. In that process, Christensen applied for a grant with the historical society shortly after she received her most recent order to correct. Christensen was denied the grant money, leaving her with few other options.
Seeking another avenue, Christensen applied for a Main Street business federal grant that she came across during her search for building repair funds. The grant application required her to collect 250 votes from community members, but Christensen was unable to gather enough votes in time for the application deadline.
"I was told the historical society had more applications that were smaller in grant requests, and they thought it would be better to help more than one building; not one," Christensen said of the state's Historical Society. "I was running all over looking for votes, and I wasn't able to get the votes in the time frame allowed."
For the final option, a local window shop and the city pitched a quote of $115,000 for the window replacement, along with a 10 percent discount, Christensen said. In addition, the city provided a 20-year payback plan at no interest.
"Paying $450 per month for two decades isn't a cheap ordeal," Christensen said. "It's just very hard to come up with the money needed for the building repairs in such a short time frame."
After coming up empty in her quest to secure grant funding, Christensen said she was running out of options to foot the bill for repairing the nuisances.
According to the city's updated nuisance code, the city has several courses of action if the respective property owner fails to correct the nuisance conditions outlined in the order to correct. The most common actions the city can take if the property owner isn't correcting the nuisances in the allotted time given are abatement and court proceedings. An abatement is the process of removing a nuisance condition from structures in order for them to be in compliance with the city's building nuisance code. The city's nuisance code states an abatement exceeding $5,000 requires the Mitchell City Council to first authorize the abatement with a resolution. The city may also prosecute a property owner for citations issued for violating the nuisance code.
Christensen falls under that category, which has led her to hiring an attorney. As of now, Christensen is in litigation with City Attorney Justin Johnson, and said she's seeking an extension to repair the nuisance corrections in hopes of somehow funding the repairs. The Daily Republic reached out to Johnson, but he was unavailable for a response.
"We look for voluntary compliance, and the last thing we want to do is tie up their time and the city's in court," London said.
1
/
4:
Some Main Street businesses face the challenges of maintaining their building to comply with nuisance corrects outlined in the city's building code. (Matt Gade / Republic)
2
/
4:
Replacing the windows on the upper levels of The Crafty Fox building is a costly challenge for the Main Street businesses faced complying with city's building code. (Matt Gade / Republic)
3
/
4:
The Crafty Fox is one of the Main Street businesses faced with the challenge of maintaining the building to comply with nuisance corrects outlined in the city's building code. (Matt Gade / Republic)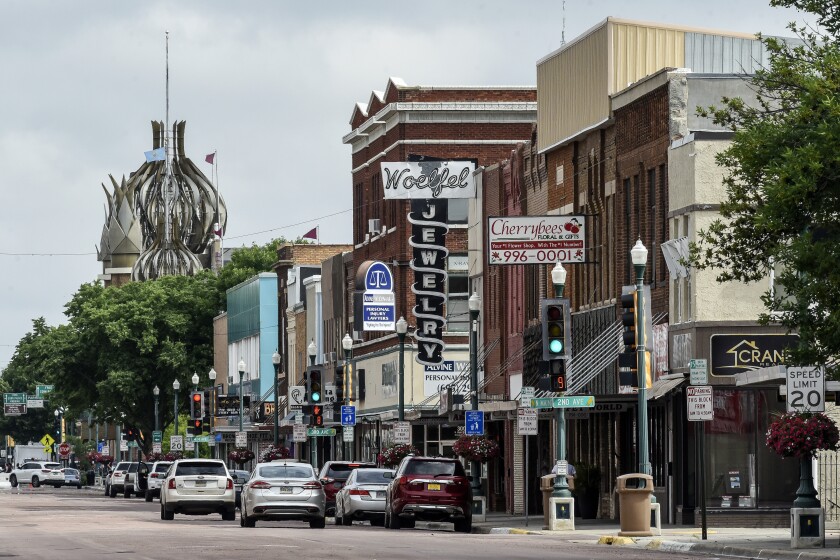 4
/
4:
Some Main Street businesses face the challenges of maintaining their building to comply with nuisance corrects outlined in the city's building code. (Matt Gade / Republic)